Former Airfield Tempelhof
Urban Regulations for a slow Conversion, Berlin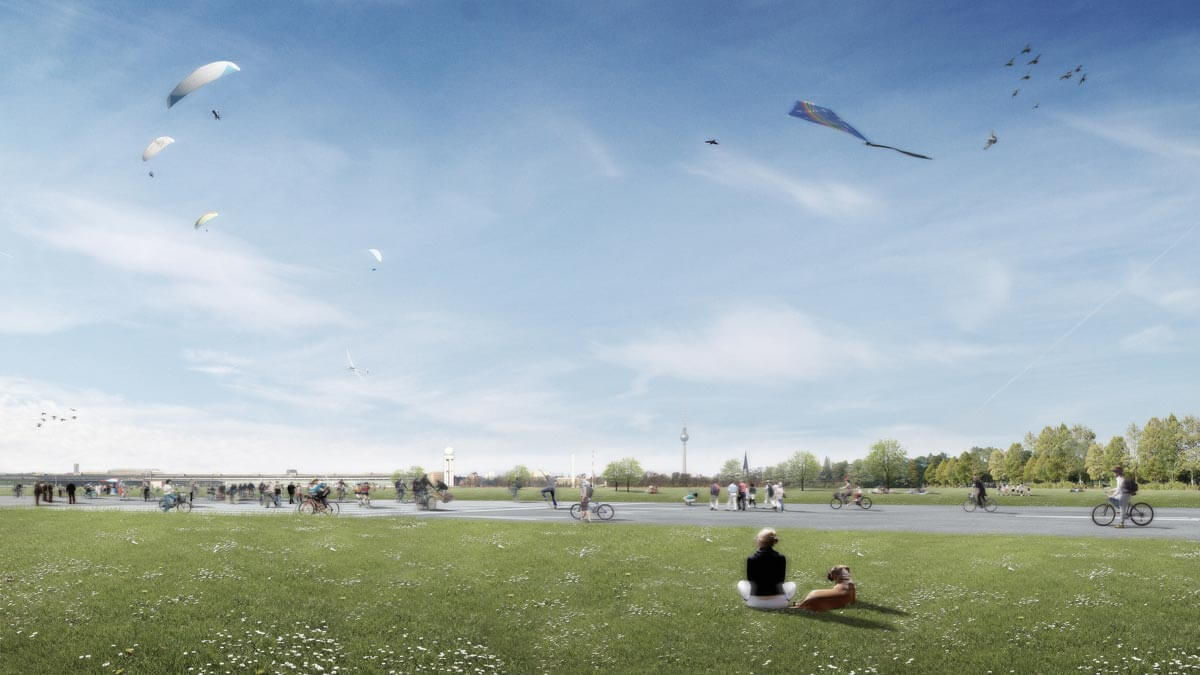 The referendum of the 25th of May 2014 prohibits not only the erection of buildings on the former Tempelhof airport, but also the design of the missing links to the surrounding quarters. This project was a contribution to the competition Parklandschaft [Park Landscape] 2010, and it developed strategic instruments for process design and urban qualities in harmony with temporary actions.
The rear of the former runway, the residual and between spaces on the periphery of the former airfield represent the unwanted legacy of the well-known label "Flughafen Tempelhofî" If it is about the potential development opportunities of this impressive open space, then it must be achieved by way of the qualification and linking of the periphery with the existing adjacent neighbourhoods.
A context-oriented access road weaves through the open space linking the existing circular taxiway with surrounding quarters and the interior park landscape.
As a landscape framework, the surrounding stretch of woodland ensures stability for the future development of the entire area. It adopts functions and activities by way of the arrangement of surfaces, and integrates these as natural, or later, urban clearings, depending on the demand and degree of activity. As a basic spatial framework, the wooded area will then function as background vegetation to the procedural motor of the Tempelhof of tomorrow. Thus, the historical level will be overlaid by a contemporary level capable of both change and of doing justice to the variables and differing standards of a future modern park landscape.
---
Landscape planning competition
---
Programme: Re-use of the 384 ha Tempelhof airfield as an urban park landscape and development of a set of rules for procedural strategies
Client: City of Berlin
Location: Berlin-Tempelhof, DE
Year: 2010
Team: Joachim Schultz-Granberg, Felix Büttner, Philipp Quack
Partner: Hager Landscape
---