The Tower
Artwork, Potsdam
An old Russian observation tower is transformed into a walkable kaleidoscope which connects history to a blooming future.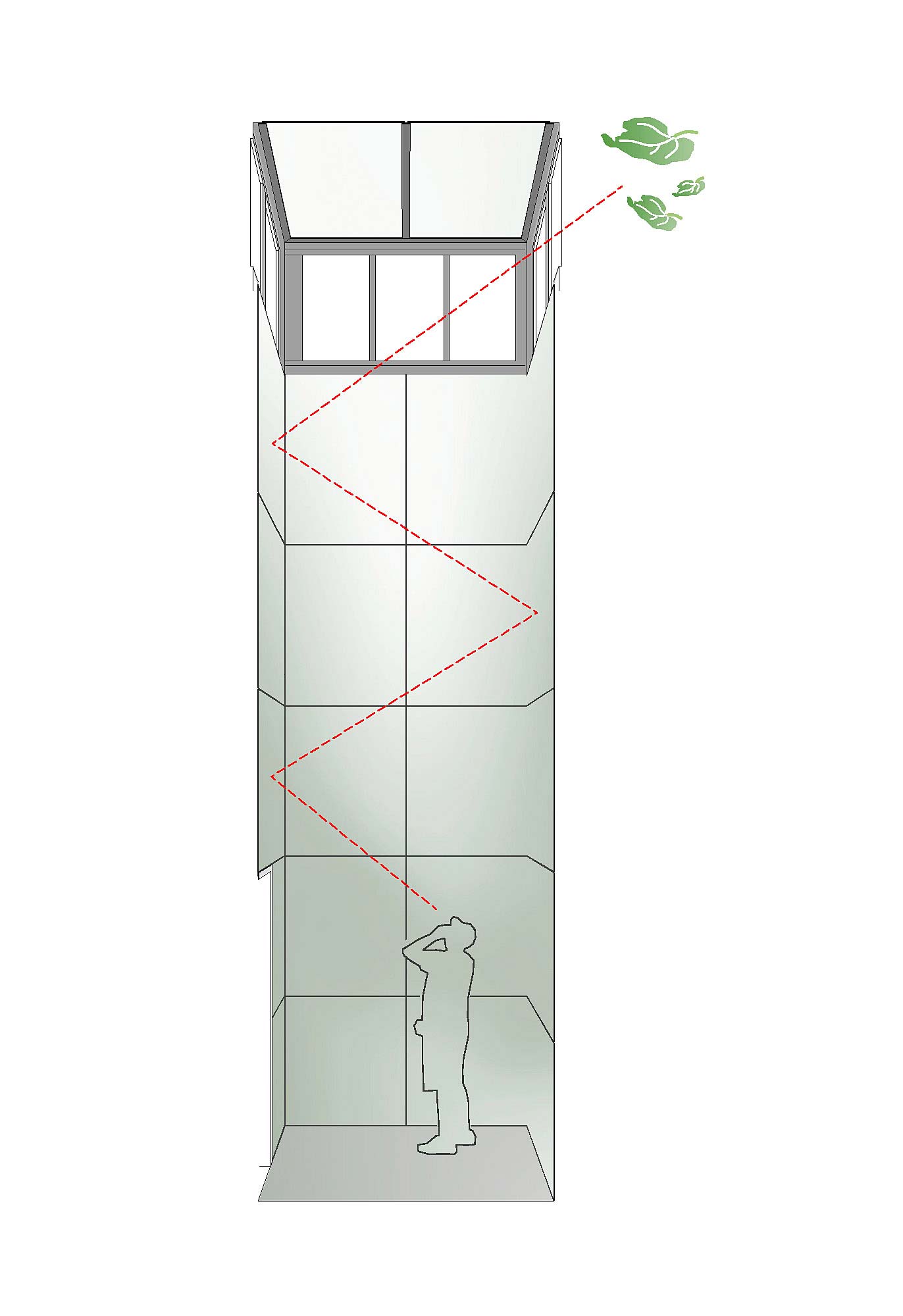 The National Garden Show (BUGA) 2001 in Potsdam was situated on a former Russian military site. With the theme "Camouflage – Exposure" the organizing committee intended to include the historical context and wanted to turn the existing traces into a topic of discussion and reflection. A competition for artists served to qualify five projects. Together with the Hamburg-based artist Annette Wehrmann we realized one of the winning projects.
This tower was one of the sites historical traces, a prefabricated standard structure and a well-known symbol in use along the inner German border until 1989. The decision was to preserve it as a silent witness of the past. Only necessary repairs of the roof were undertaken. No further changes to the exterior took place. The interior reflects a minimum of design: the 8m high tower was completely cleared from the inside. The observation platform and the stairs were taken out. Mirrors were fixed to the walls, and light entering from the four windows located at the top of the structure create a wonderful act of colours, facets and shades multiplied by endless reflections in the mirrors: a walkable kaleidoscope.
Visitors who enter the structure cannot look out. They can merely observe themselves. Their curiosity is rewarded with an abstract projection of the surrounding landscape, the future scenery for the garden show.
---
Artwork
---
Programme: Implementation of the concept of the artist Annette Wehrmann, detailed design, planning and reconstruction
Location: Potsdam, Bornstedter Feld, DE
Year: 2000 – 2001
Client: Entwicklungsträger Bornstedter Feld GmbH
Partners: Claus Greil, Christoph Stolzenberg
---