City of Gardens
Settlement and Horticulture Show, Leinefelde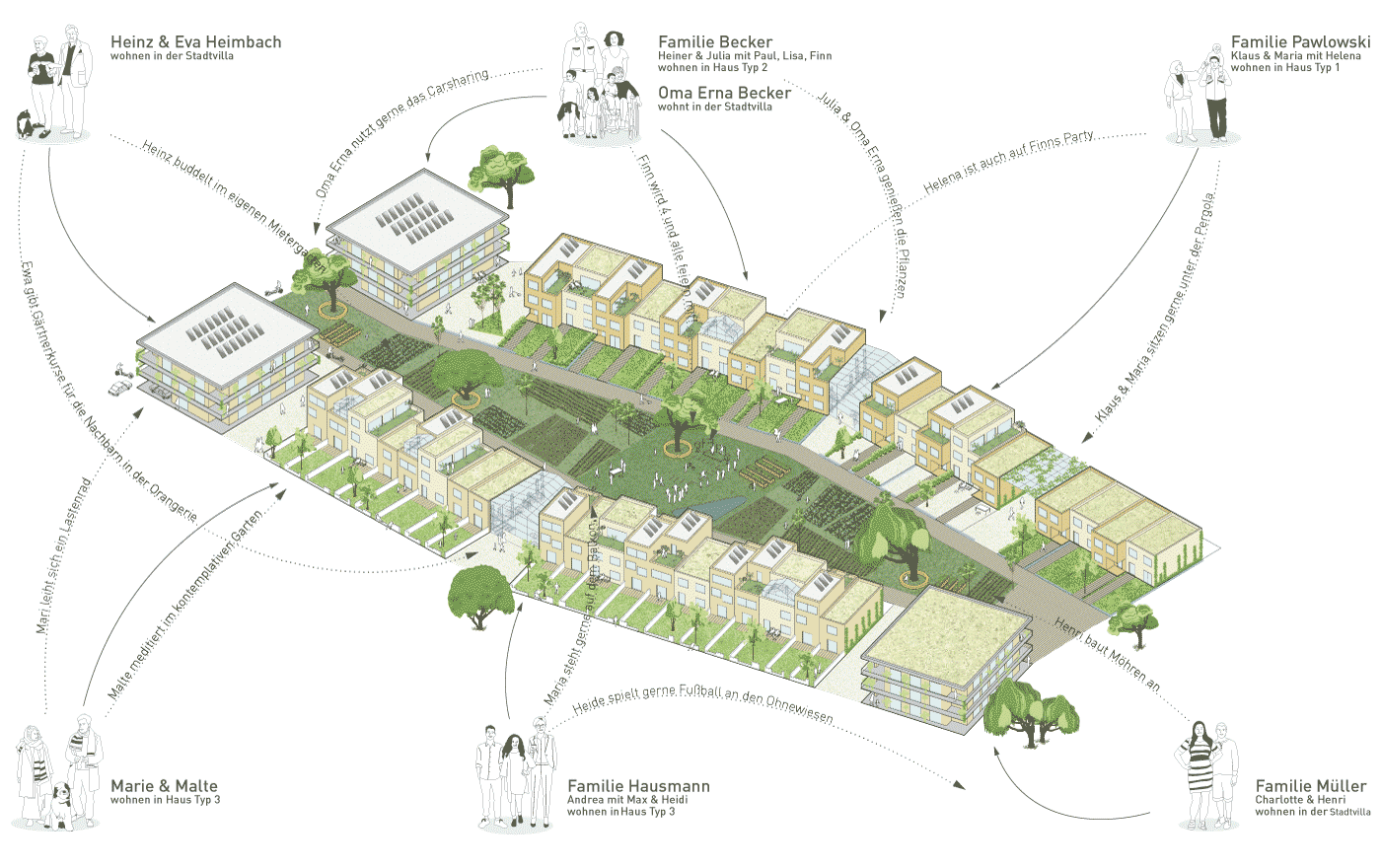 A balanced relationship between private space and communal areas is the basis for stable and sustainable neighbourhoods. The City of Gardens allows each apartment access to a wide variety of open spaces and offers a multi-faceted interface between home and landscape.
The planned State Garden Show 2024 pursues the theme of "reconciliation between city and landscape" and redevelops the concept of the garden city. The project investigates urban-rural topologies, the interface between interior and exterior space, typological innovations and new role models for contemporary urban patterns.
The variety of life styles is reflected in the diversity of apartment types and their potential for active neighbourhoods. The garden city becomes the city of gardens. Here, families with and without children, those who are single and couples, both active and less active seniors all find an appropriate housing model and fitting green spaces: balconies, (roof) terraces, front gardens, enclosed green spaces for quiet contemplation, neighbourhood orangeries, allotments and areas for urban gardening.
Courtyard-size commons are created by the erection of buildings. At their southern end, slightly elevated terraces open up the view towards the river meadow. The rows of terraced houses are interspersed with breathing spaces, green living rooms, which are configured to suit individual tastes and needs. The house entrances face the courtyard, promoting neighbourly relations and friendly social interaction.
---
Competition
---
Program: State Garden Show with New District Development, 15 ha
Location: Leinefelde, Thuringia, GER
Year: 2020
Client: City of Leinefelde-Worbis
Team: Therese Granberg, Joachim Schultz-Granberg, Anna Nötzel, Daniel Heuermann, Eyal Perez
Partner: bbz landscape berlin, DMSW architecture
---
related projects
(Sub)urban Mix, Limburg